Visual Resonance exists in the
Patterns of Nature AND the Frequencies of Human Feeling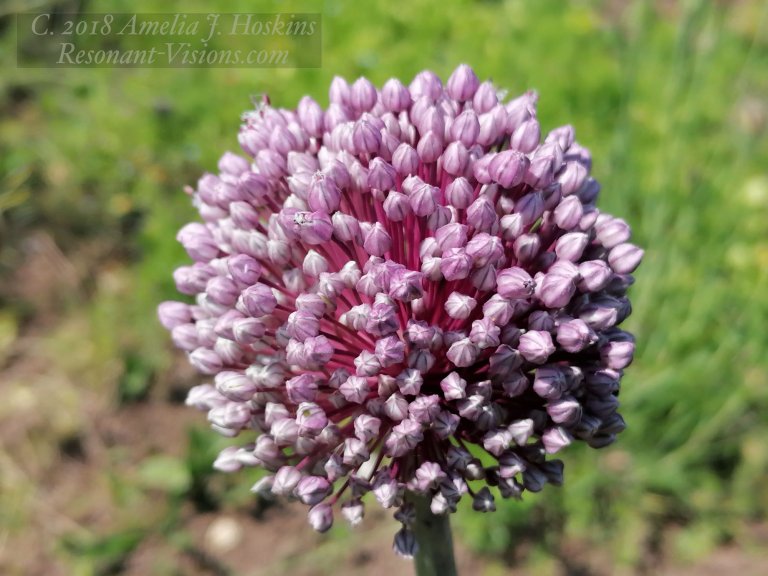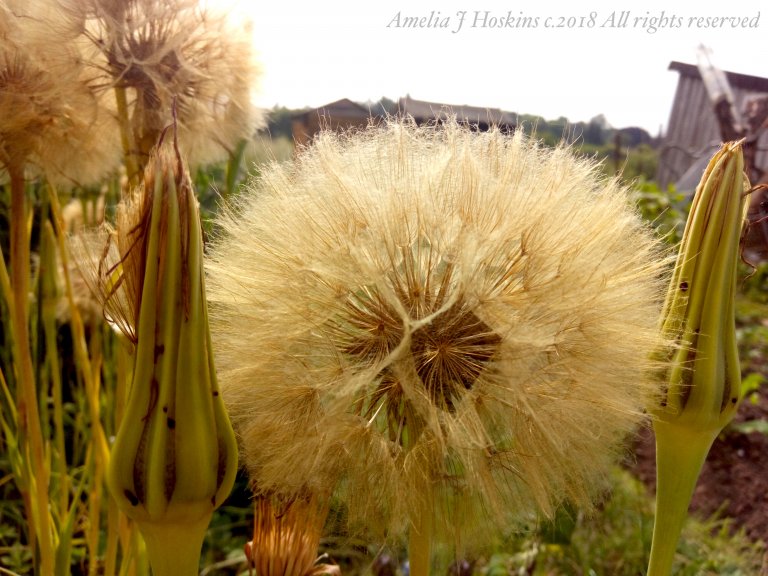 Designs and paintings will combine geometric patterns in harmony with natural forms, which show the formation from cosmic energy, light and water, in circular and spiral growth patterns, interweaving with the environment.
Humans art designed to connect people with ideas.
Image of cross with circle pattern connects spirituality of religion. The light behind represents spiritual illumination. Photographic observation connects resonance of meaning.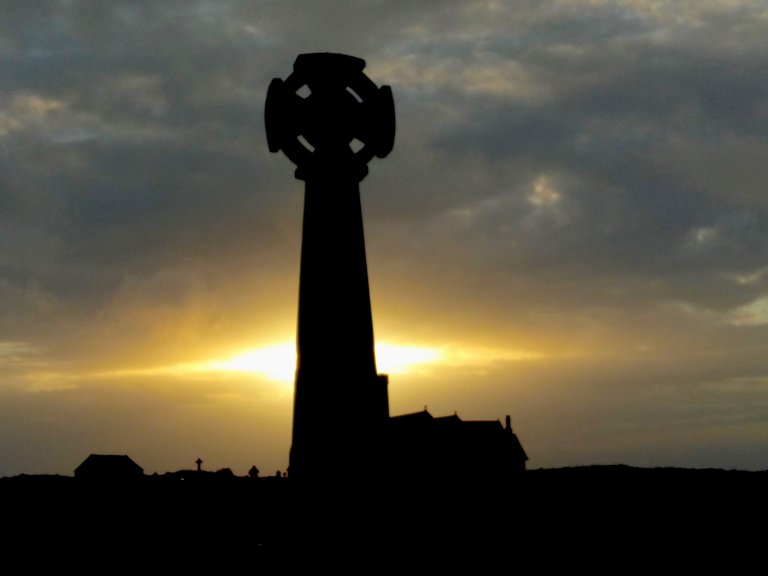 Photographic and art images here are about having a resonance with universal nature, whether simple florals and landscapes of Earth, universal patterns of harmony; art which is uplifting with harmonious frequencies.
or images which connect with human thoughts and emotions, which can help understanding of the human condition and history.
Tulip Sunset Silhouette
Flower image resonates with Celtic cross by way of its shape (circular with stem) and its background of sunset.  The Celtic circle is likely representing life, as does the flower form which 'resonates'.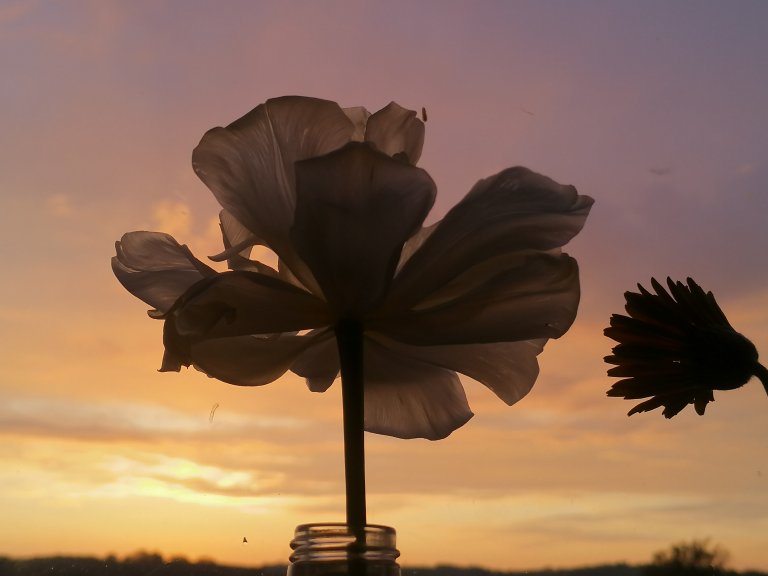 William Blake's  paintings here were all photographed by author at the Tate Gallery Exhibition 2019. Paintings below show both lightness and love of mother and child subject, compared with a darker struggle of mankind, which is typical of Blake's themes.  The old male is likely Urizen his mythical figure from a series of related works. Urizen is always depicted as being part of the struggle of humanity, controlling, forcing things, working against harmony. In this painting he has a red orb which may signify the world on fire with wars, or progress of the world through new science and technology, both of which Blake viewed to be a wrong path for mankind.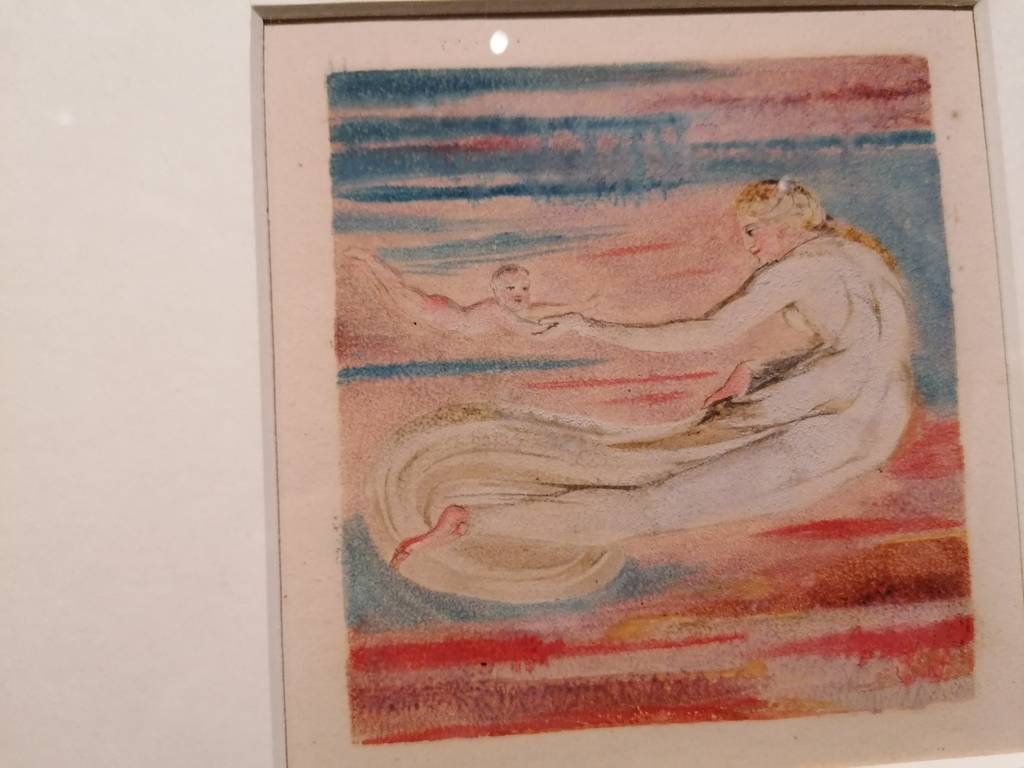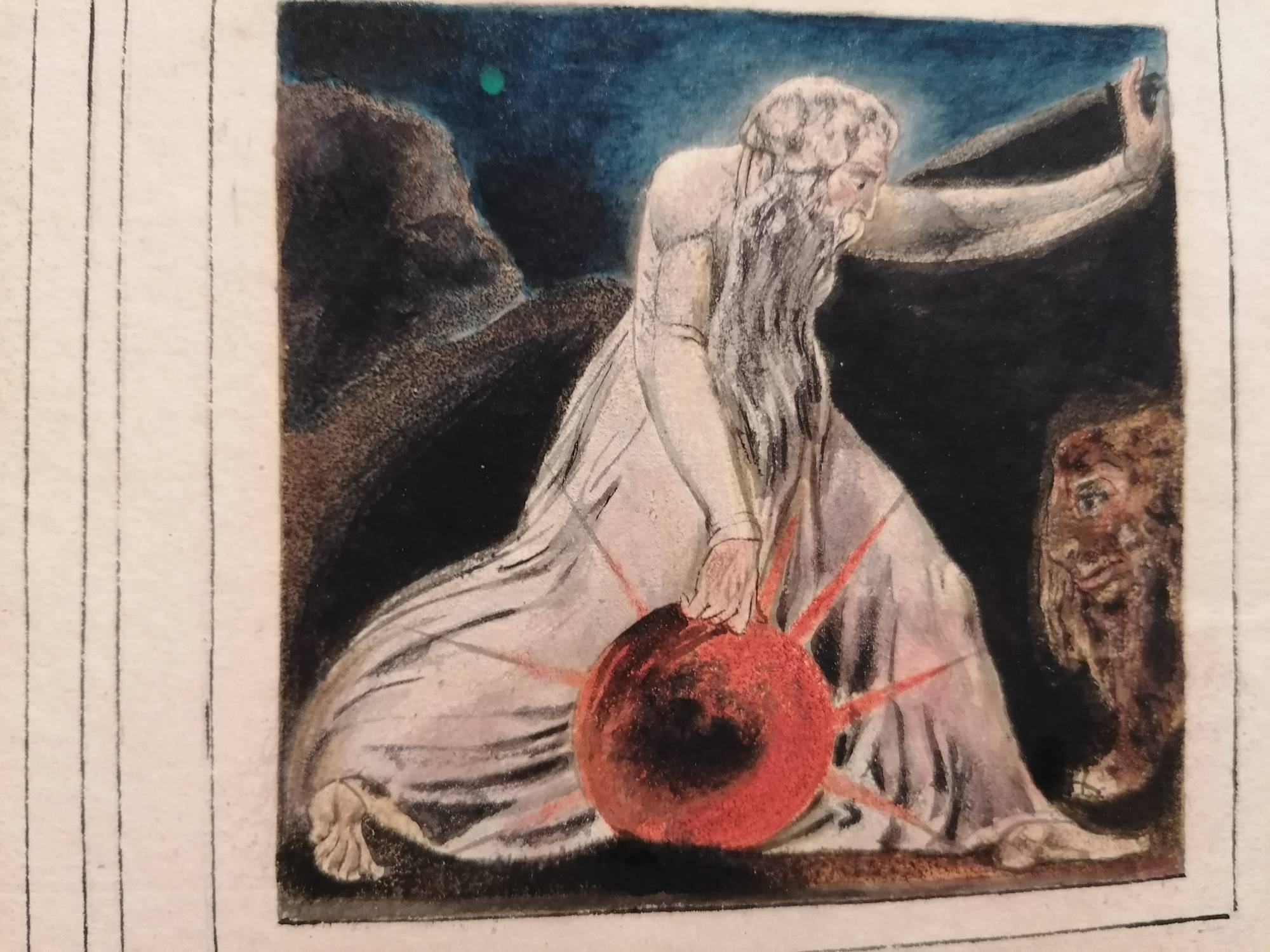 "Peace and Plenty and domestic happiness is the source of sublime art'"

   ~ William Blake
William Blake is a good starting point in this exploration; as a uniquely poetic visionary artist of his time, in terms of light vs dark, love vs war, life vs death and freedom vs tyranny which he portrayed in an allegorical symbolic manner to aid understanding.  He was committed to representing the human condition amidst eternal forces of goodness and love vs demonic planetary control, in an age where religion was used as a state control mechanism to restrict rather than to uplift and rejoice.  He said religions are similar to poetry and his art uses Bible stories which he applies in their purest allegorical form without religious doctrine.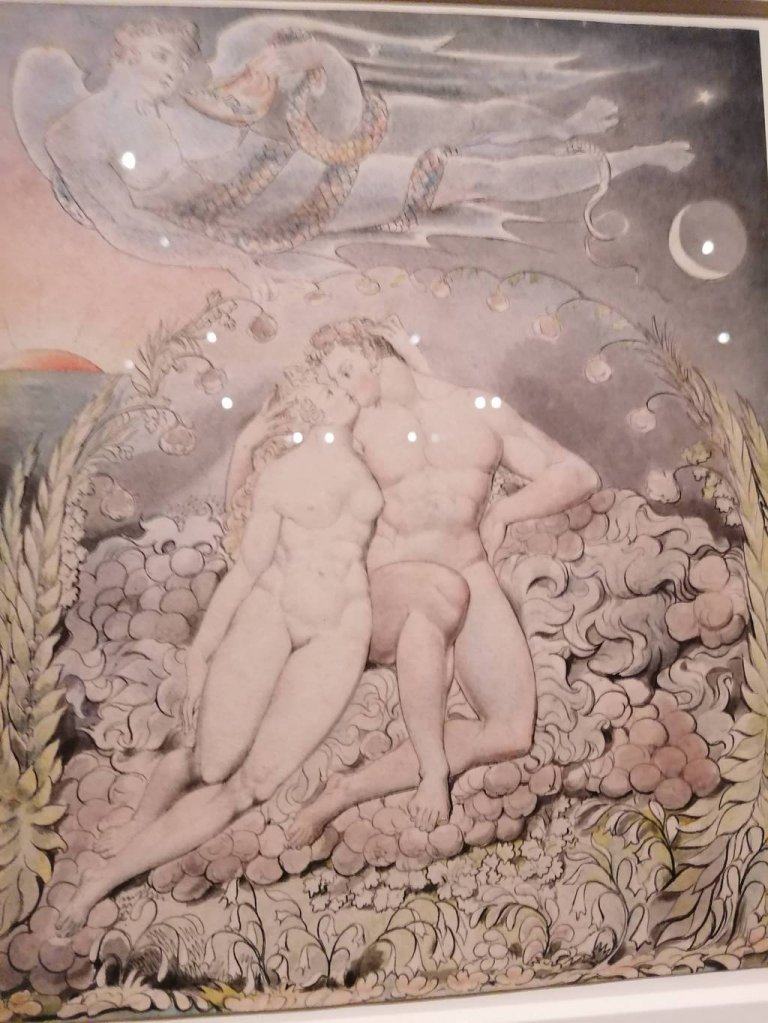 Blake's vision of paradise often includes a happy loving couple, which he draws sensitively and beautifully, with light colours and no heavyness as in some of his paintings. Angels are often in attendance: this one has a serpent, which may symbolise harmony in sexuality or be a warning motif of the world beyond; even a warning that perfection might not last, given the conditions humanity contends with, and world instability.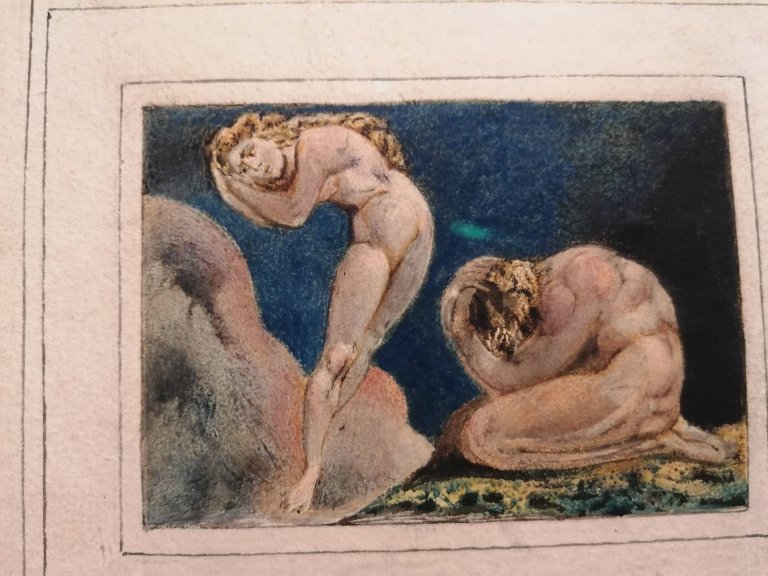 Images of human emotions are common in Blake's work, as this painting of male and female with a separation, or an emotional difference.  Even universal issues maybe shown allegorically: the female could be mother Earth, the male could be man's sorrow on Earth.
His work and philosophy is a good measure of humanity as he represented an English outlook in an era of war with Europe and the birth of America, coupled with the enlightenment. He supported Thomas Paine's Age of Reason to some extent but was really an independent thinker working towards his own vision.
Interestingly, many of his works look up to date: including those of demonic control, which resonate with our own time while we are aware of world controllers without interest in humanity.  Artistically, many of his illustrations have a modernist approach with graphic design, even a 'Batman' [image link]  His development as a professional artisan engraver led to his own stylized methods, which makes him worth studying for his skill in drawing for engravings.  His style is both sensitive (link churchyard) and sensorious (link Urizen/demons); heavenly and hellish.
[add 2 images]
[Book ref Cambridge Companion to William Blake: 'Blake's Politics in History' - John Me, 'Blake and Religion' - Robert Ryan]
Quote: Blake is jibing about the wasteful war with France. [add note]
Nature as best medicine
We can consider what is good resonance for public consumption; be it something natural which pleases us by its reminder of the natural world or of abstract ideas which portray a vision: then we might say by comparison that art which does not have an inspiration from 'beautiful vision' lacks a philosophy which might be important to communicate - and ultimately to enhance society in any era.
Popular, commercially viable art has to be valued by the majority of people. Most people want to see 'pleasant' 'nice', 'pretty' representations of the world, which is why nature photography is perennially popular; because nature always shows balance of design.  To argue for joyous art; my field of textile design has traditionally used nature depicted as attractive, either naturally drawn, patterned or abstracted. People like to wear images of natural joy on clothes. and textiles tend to show balanced designs.
The Value of Vision - Art for the people or as artist self indulgence
Art is made when the artist wishes to resonate with a perception he has.  We can ask if there can be a point at which such expression has little or no quality to resonate with viewers:  whether it is a 'good' or 'uplifting' visual experience, or mere subjective self indulgence. Art Nouveau, Pre Raphaelites, Romanticism and Impressionism depict uplifting images and scenes.   Whereas Surrealism and some Abstract Expressionist painting expressed 'angst'. [Ernst war, Kooning women]
All art is a synthetic representation of life experience, as seen or felt by the artist.  However, if we hold that art with a powerful resonance to move people inspirationally is beneficial to society, then we can suggest that 'Synthetic' art may be considered as having been made with no real 'vision' to resonate inspiringly with others.
With some art the meaning becomes confused, obfuscated or meaningless; nowadays seen in 'synthetic' art. [link]  Postmodernism has had a strange influence on art which has come to light in exhibitions and public sculpture, where it has become more concerned with political agendas and nihilism.  In an era where we do not experience war first hand, people seem to invent their own persecutions as victims.