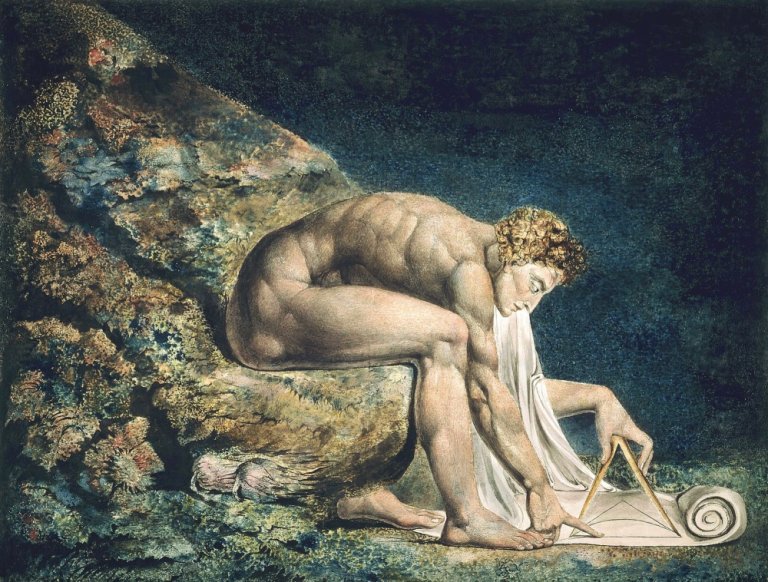 Blake's image of Newton under the sea being the measuring architect, illustrates all that may be hidden from him, by using measuring alone.
In your bosom you bear your heaven and earth and all you behold; tho'it appears without, it is within, in your imagination'.
'Like many of Blake's statements, this can seem bewildering and mystical at first glance, but when we reread it we see that Blake was being clear and concise.' (John Higgs, Blake vs the World, Ch. 4).
All that exists in the material world started as an idea in someone's imagination.  Now that we live in such a provided-for physically built environment, and since the industrial revolution, its possible to believe in only the material world, things we can see and touch, which are already there.  Blake foresaw the demise of belief in the inner creativity, the mystical, spiritual or creative experiences;  just as the demise of religious dogmas was in the ascendent during the Enlightenment and Newton's physics brought the age of scientism.  In The Book of Urizen Blake illustrates his concern that reasoning and laws of science limit infinite possibility.  [My post on Urizen]
"Spread a Tent, with strong curtains around them

Let cords and stakes bind the void

that Eternals may no more behold them."

They began to weave curtains of darkness

They erected large pillars around the Void

With golden hooks fastened in the pillars

With infinite labour the Eternals

A woof wove, and called it Science
Much of Blake's poetry and artwork is built upon his insight that "without contraries there is no progression. Attraction and Repulsion, Reason and Energy, Love and Hate are necessary to Human existence."   The very definition of one implies the other exists; described by the 600BC philosopher Lao Tsu:
'Being and non-being create each other.
Difficult and easy support each other.
Long and short define each other.
High and low depend on each other.
Before and after follow each other.'